By SAMHSA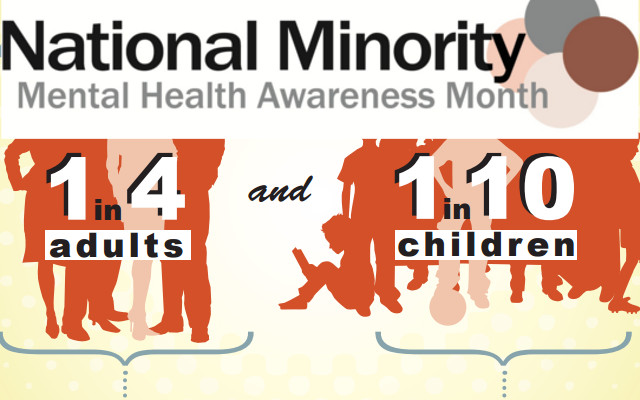 By:
J. Nadine Gracia
, MD, MSCE, Deputy Assistant Secretary for Minority Health; Director, Office of Minority Health;
Pamela S. Hyde
, J.D., Administrator, SAMHSA
Discrimination exacerbates health and health care disparities for communities of color.  Inequity results in lack of access to quality, affordable care and can lead to prolonged and unnecessary illness.  This is especially true for people with a mental illness or substance use disorder.  During July, National Minority Mental Health Awareness Month, we shine a light on the discrimination that minorities often experience when living with a mental health condition, and learn how we can prevent it.
Even as conversations about behavioral health become more common in our country, negative perceptions about mental illness and addiction continue to be a major barrier to seeking care, especially in minority communities.  In our travels, we hear many stories from individuals, families and communities across the country that fear talking about mental health.   As individuals, we are a greatly influenced by our cultural and spiritual beliefs and values.  At times, those cultural perceptions, some about mental health, may make it difficult to understand and talk about mental illness or addiction.
For others, the legacy of discrimination in health care services continues to linger, and can lead to distrust of health care professionals and behavioral health service providers. And provider or institutional bias can impact the quality of care that is administered to patients. All of these factors often lead to barriers that can keep individuals in need from seeking out and receiving the help and treatment that can lead them to recovery and promote health equity.
We must continue to look for ways to improve the mental health care experience for all groups, including minority communities.  We are making gains on this front through the Affordable Care Act.  About 1 in 4 uninsured adults have a mental or substance use disorder or both. About 1 in 6 uninsured low-income adults has a serious mental illness. The Affordable Care Act, which included the largest expansion of behavioral health coverage in a generation, builds on the Mental Health Parity Act to expand mental health and substance use disorder benefits and federal parity protections to more than 60 million Americans. In addition, the uninsured rate has declined across the board since 2013. As a result, more minorities now have greater access to behavioral health benefits.
But there is still more work that needs to be done.  Research has shown that the small numbers of minorities who do seek behavioral health care prefer receiving that care in primary care settings, which means expanding this entry point into treatment is crucial.  We must also ensure a health care and behavioral health workforce that is responsive to and respectful of the cultural and linguistic needs of diverse communities.  Our department's HHS Action Plan to Reduce Racial and Ethnic Health Disparitieshelps us achieve this by placing a priority on addressing behavioral health disparities.
Implementation of the National Standards for Culturally and Linguistically Appropriate Services in Health and Health Care (National CLAS Standards)—one of the key strategies of the HHS Disparities Action Plan—is an important step toward this goal.  As a blueprint that helps health and health care organizations improve the quality of services provided to diverse communities, the National CLAS Standardsdeveloped by the HHS Office of Minority Health can help providers and delivery systems break down barriers created by bias and discrimination, while providing needed, quality care.
SAMHSA's Office of Behavioral Health Equity is working across racial and ethnic minority communities to facilitate the availability of culturally and linguistically appropriate services and the development of a more diverse and sensitive workforce of treatment and service providers. An example of such an initiative is the Historically Black Colleges and Universities Center for Excellence in Behavioral Health (HBCU-CFE), which engages HBCUs in developing strategies to promote behavioral health workforce development and enhance behavioral health curricula for students.  SAMHSA also supports the Minority Fellowship Program, which is designed to increase the number of minority professionals in the behavioral health workforce.
Ultimately, an understanding of culture combined with a provision of health care services respectful of the beliefs, practices and needs of diverse patients can help improve social inclusion and close the gap on disparities affecting persons experiencing mental or substance use disorders.  We cannot do this work alone.  During National Minority Mental Health Awareness Month, we challenge you to take part in this important conversation and to start conversations in your own community.
Stay connected throughout National Minority Mental Health Awareness Month by following and using #MMHM2015.  Share a photo, video or story with the hashtag #MMHM2015 to let others know how you are getting involved.
Learn more about SAMHSA's Office of Behavioral Health Equity and read SAMHSA's new Behavioral Health Equity Barometer to find out more about key behavioral health indicators among diverse populations.
Learn more about the HHS Office of Minority Health and resources on culturally and linguistically appropriate services in health and health care at www.thinkculturalhealth.hhs.gov.
Via:: Minority Mental Health Month: Lifting the Burden of Disparities