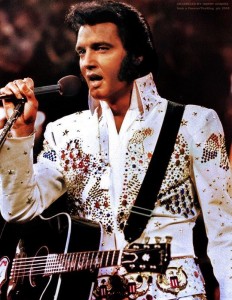 Elvis Presley, one of our great pop culture icons, was found unresponsive on the bathroom floor at his home, Graceland, in Memphis on August 16, 1977. He was officially pronounced dead at 3:30 p.m. at Baptist Memorial Hospital. What took his life at 42?
The coroner recorded the cause of death as cardiac arrhythmia, a condition that can be determined only in someone who is still alive. This has caused claims of a cover-up. What was not recorded was Elvis's addiction to the drugs codeine, Valium, morphine, and Demerol, just to name a few. While Presley's main physician, Dr. George Nichopoulos, was exonerated of criminal liability for the singer's death, the facts were startling. The Tennessee Medical Board, which investigated the case, found that Nichopoulos had prescribed Presley more than 10,000 doses of narcotics, amphetamines, and sedatives, and that was just in the first eight months of 1977. The medical board suspended Nichopoulos for 3 months and in 1995 his license was permanently revoked.
Elvis Presley´s cause of death and drugs
We do know that Elvis Presley suffered from an enlarged colon from his bad dietary habits, however, as well as suffering from the onset of glaucoma a chronic insomnia that had followed him around for years and migraine. Recent medical analysis suggests Elvis may have also suffered from rheumatoid arthritis, about which more is known today.
After the initial autopsy, tissue samples were sent to laboratories around the country. Independently, they confirmed high levels of some drugs, some at near-lethal doses, in Elvis' body.
1. Valium = Diazepam = Benzodiazepine(all the same drug but different name) > Sleeping Pills
2. Demerol = Pethidin = Dolantin(all the same drug but different name) > Painkillers > Migraine…..
3. Ethinamat > Sleeping Pills
4. Methaqualone = Parest = Quaalude(all the same drug but different name) > Sleeping Pills
5. Sinutab > Against sniff
6. Codeine > The day before Elvis got it from his dentist
Only 2 drugs were found in very high dosage Methaqualone and Codeine.
Methaqualone is a sedativedrug that is similar in effect to barbiturates, a general CNSdepressant. It was used in the 1960s and 1970s as an hypnotic, for the treatment of insomnia, and as a sedative and muscle relaxant.
Usual effects include relaxation, euphoria, and drowsiness, also reducing heart rate, respiration, increased sexual arousal (aphrodisia) and parasthesias (Numbness of the fingers and toes). Larger doses can bring about depression, muscular miscoordination, slurred speech, headache and photophobia (pain in the eyes when exposed to light).
An overdose can cause delirium, convulsions, hypertonia, hyperreflexia, vomiting, renal insufficiency, coma, and death through cardiac or respiratory arrest. It resembles barbiturate poisoning, but with increased motor difficulties and a lower incidence of cardiac or respiratory depression. Toxicity is treated with diazepam and sometimes other anticonvulsants.
Elvis took those very strong sleeping pills in very high dosage over years, he was addictive for sure!
My opinion: It´s very simple. The sleeping pills killed Elvis Presley over the years!
It has also been suggested that the codeine the dentist gave him that day resulted in an anaphylactic shock that assisted in his death. (He had suffered allergic reactions to the drug previously.)
Elvis The Last 24

An informative, well constructed documentary which includes unseen footage and home video material including the Eddie Fadal footage from the 1950s and scenes filmed by audiences of Elvis' performances in 1970s. It shows the journey of the last 24 hours in the life of Elvis and includes memories from members of the Memphis Mafia including Sonny West, Billy Smith, Larry Geller, Joe Esposito, Jerry Schilling, Marty Lacker and Lamar Fike.
Narrated by Duncan Wells, Produced and Directed by Mike Parkinson